More confession time.
My biggest shopping weakness is food. Expensive/gourmet food items that sometimes just end up sitting unused on my shelves until they go bad.
I'm pretty good with almost all other areas of shopping and spending money. Clothes aren't a problem, gadgets appeal to me, but I can generally control myself in that area. Books are occasionally something I'll spend a bit on, but I try to justify the purchases I make. Food...now that is a problem.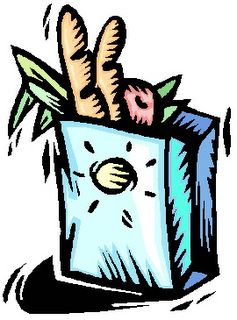 I'm a sucker for good food, and even though I know it's not always necessary, most of the time, I look for the best ingredients, or go with a "name brand". I know enough not to go food shopping when I'm hungry, so I don't have that excuse for my grocery bills.
I do try to eat healthy, and I know that contributes to the expense. Most high quality foods are going to be more expensive. Whole grain or Organic products just aren't cheap yet. I don't go organic with most of my produce, but with certain items, if they look better than the regular produce, I'll pay the higher price for the Organic.
It's not unusual for me, a single guy, to spent $80 - $100 on groceries in a single week. I do cook in the evenings, so I try not to eat out all that much.
I'll go down the aisles see something that looks "neat" or interesting, and throw it in the cart.
Trader Joes
is a place where this is extremely easy to do.
What do I do? I make menus and compose grocery lists of only the things I will need for the things I plan to make and eat that week. A few extra things always find their way into the cart.
One theory I have is that grocery items are mostly small ticket items. You don't think of $2.99, $1.79, $2.59, $3.49, 2 for $4.00 as being all that much, until you add them all up. "It's only a couple bucks". It adds up very quick.
If I'm going to really simplify and make the money that I have go further, I need to spend less at the grocery store. I should be able to cut the weekly bill in half. That other half needs to be working for me elsewhere.